My Father's Business
The Small-Town Values That Built Dollar General into a Billion-Dollar Company
Download a free preview of My Father's Business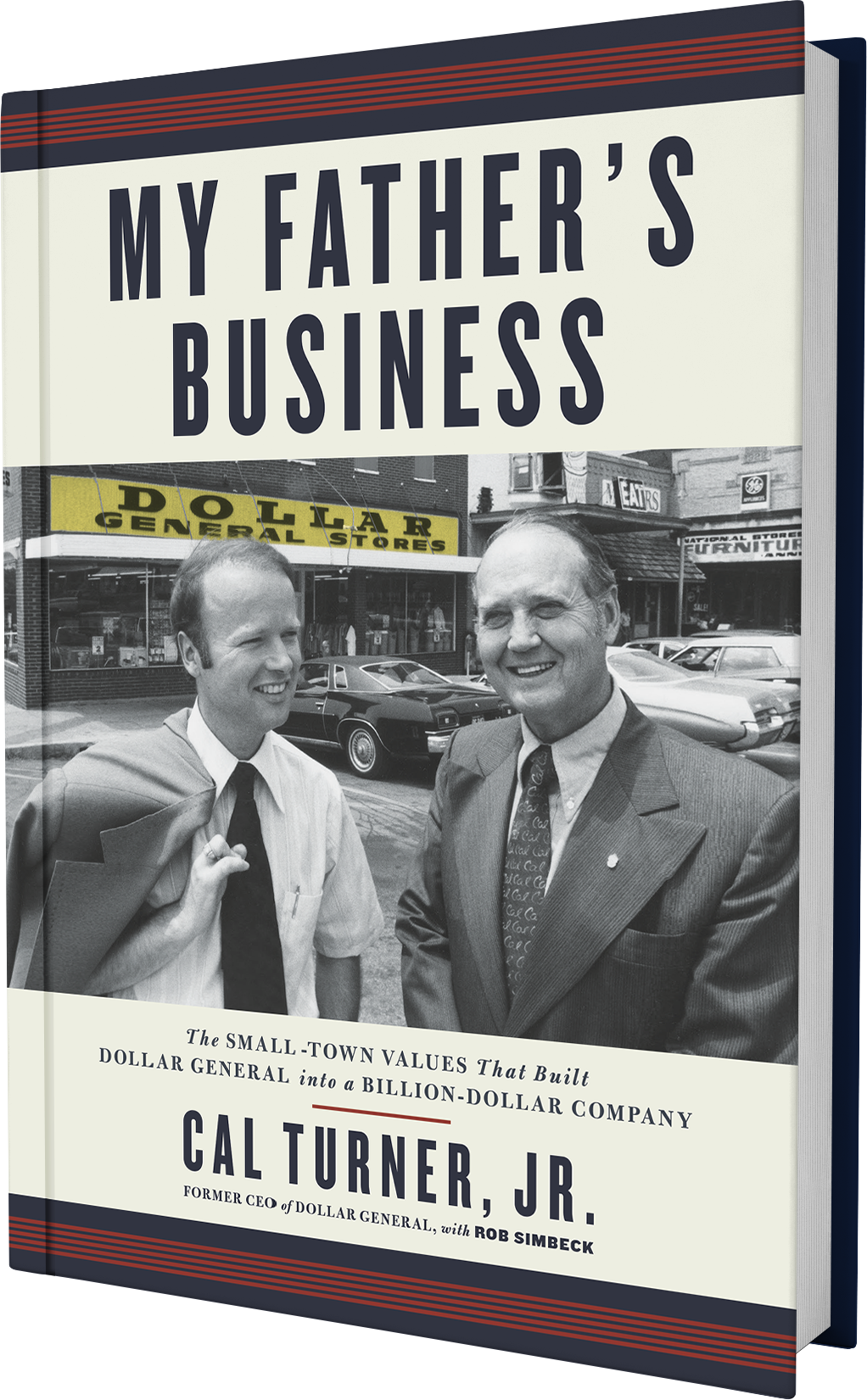 "The story evokes an unlikely comparison with another recent memoir with Kentucky roots, J.D. Vance's Hillbilly Elegy…both authors feel the pull of empathy and respect for hardscrabble lives in overlooked places."
- WSJ
Longtime Dollar General CEO Cal Turner, Jr., shares his extraordinary life as heir to the company founded by his father, Cal Turner, Sr., and his grandfather, a dirt farmer turned Depression-era entrepreneur. Cal's narrative is at its heart a father-son story, from his childhood in Scottsville, Kentucky, where business and family were one, to the triumph of reaching the Fortune 300—at the cost of risking that very father-son relationship.
Chronicling three generations of a successful family with very different leadership styles, Cal Jr. shares a wealth of wisdom from a lifetime on the entrepreneurial front lines. He shows how his grandfather turned a third-grade education into an asset for success. He reveals how his driven father hatched the game-changing dollar price point strategy and why it worked. And he explains how he found his own leadership style when he took his place at the helm—values-based, people-oriented, and pragmatic.
Cal's story provides a riveting look at the family love and drama behind Dollar General's spectacular rise, pays homage to the working-class people whose no-frills needs helped determine its rock-bottom prices, and shares the life and lessons of one of America's most compelling business leaders.
Praise for
My Father's Business
"...a fascinating glimpse into the philosophy and logistics of the dollar-store business model... An engaging memoir…"
—Chapter16.org, the literary magazine of Humanities Tennessee
"This classic story told through the eyes of my friend Cal Jr. is instructive in almost every area of life. I simply could not put it down. Must-read!"
—Dave Ramsey, bestselling author and nationally syndicated radio show host
"My Father's Business is the story of what it took to build Dollar General into a national retail chain from its rural, Kentucky roots and will encourage anyone with a dream of building a business."
—Doug McMillon, president & CEO, Walmart
"A revealing and colorful book . . . Cal Jr.'s openness about the trials and tribulations both within the family and the company itself, as well as his personal reflection in retirement, is something we can all learn from and is sure to help us be more honest in our own self-assessments."
"My Father's Business is a MUST-READ for an aspiring young entrepreneur and an enjoyable read for anyone."
―Dr. Thomas Frist, co-founder, Hospital Corporation of America
Get a free preview of My Father's Business
Subscribe and instantly get the first chapter of the book.